Wine, extra virgin olive oil & marinated vegetables.
Our signature products are: wine, olive oil and marinated vegetables. We use traditional, Southern Italian methods for collecting our olives and grapes as well as in the making of our sundried tomatoes and vegetables marinated in olive oil. These Southern Italian methods really mean getting the staff and the whole family together: sisters, brothers, aunts, uncles and cousins – including the family from England (timing holidays to coincide with harvest time).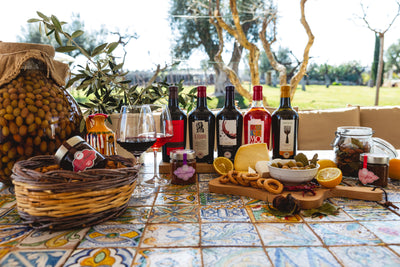 Our grapes
With the Mediterranean sun shining over the region, our vineyards grow an incredible range of grapes: Malbec, Cabernet Sauvignon, and Primitivo for our full-bodied flavoursome red wines. Sauvignon Blanc and Malbec for our mild white and delicately refreshing Rosé. We begin the harvest at sunrise (after a full English breakfast) while the temperature is still cool. Zio Franco (owner) and Salac (head groundsman) give strict instructions about remembering to put the grapes 'carefully' in to the crates – no throwing or they will blister and begin to ferment! They give the same instructions every year. Then the picking and cutting begins. We pick until the afternoon and it is back breaking work but we love it! Our produce give you a real authentic taste of Puglia.
Our olives
At Terre Di San Vito, we grow and use Coratina, Ogliarola and Favolosa olives and meticulous attention is given to the production process, in particular, harvesting by hand and then cold-pressing for optimal flavour. This Olive Oil can be found in Waitrose stores across the UK. It is this rich olive oil which we also use to marinate our delicious sundried tomatoes.  
Our grapes
The cultivation of the grapes and olives is carried out near Polignano a Mare, mostly in the Hamlet of San Vito. The farm has received recognition from slowfood.com as an exemplary model of quality-based farming, knowledge recovery and traditional production techniques.
TERRACOTTA JARS
Our beautiful and practical jars are available in block colours and with seasonal patterns. They are suitable for daily use or to add colour to any table or work top. They look incredible on a dining table and if empty, can be used to hold other condiments or flowers!